Collaboradoodle is a collaborative drawing application. When you ask people if they like to telecommute in to work, they say that they love it. Except for the fact that they can't just get all their co-workers into a room together to sketch out their ideas on a whiteboard. This is where Collaboradoodle - it's a shared whiteboard drawing application. So you don't need your friends or colleagues in the same room to do your brainstorming session. Just fire it up, connect, and brainstorm away.

Usually, after launching, you'll either want to start up a server (to allow other users to join you) or to connect to an already running server. Both tasks are handled through the connection settings window.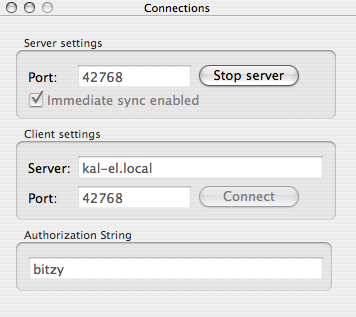 If you're the one running the server, be sure that your firewall settings are correct to allow remote machines to connect. If you're connecting, them simply punch in the IP or named address of the server you're connecting to and the appropriate port. Note that whoever is hosting the server may require an authorization string to connect, if that's the case, then type in the same string when you connect to the server.
Once you've connected, you can start chatting with the connected users.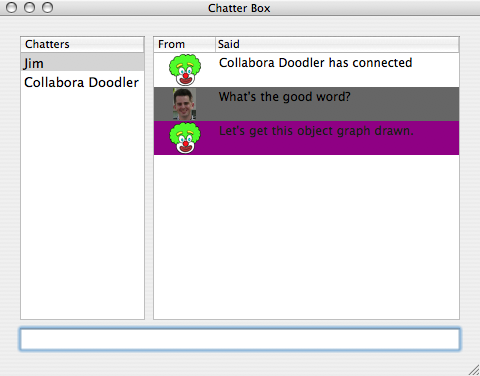 Simply type in the field at the bottom, same as any other chat program. You can also customize your chat settings from the preferences.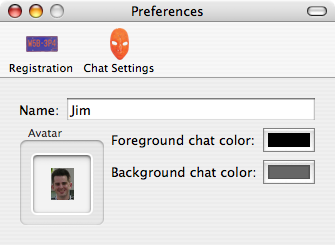 But, realistically, you can chat anywhere. The useful thing is to doodle.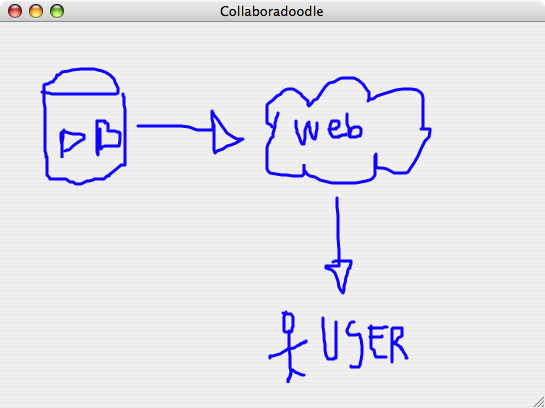 Drawing is simple. Click and drag in the window and the lines appear. Couldn't be simpler.

The options window allows you to configure several drawing options for your doodle. You can choose the color of your line, the width of the line, and which drawing tool to use. From left to right, respectively, you can draw free form, straight lines, rectangles, and ovals.
To register, open the preferences and choose "Registration".
That will bring up the registration sheet: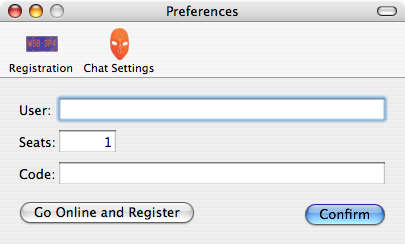 Press the "Go online and register" button to proceed to Pay Pal to pay the shareware fee of $35.00. Once your payment is processed, you will be emailed an authorization code that will Disable the 10 minute time limit. Plus you'll feel good about yourself in helping a small shareware developer and I'll really appreciate it!
Or, you can skip a step and register here.
Once you have your code, return to the register sheet and type in your name and code to disable the 10 minute time limit.